History
(formerly Olivet Evangelical United Brethren Church)
Although the doors of Olivet Church were opened first in 1947, formal organization of the church did not take place until 1950.
The first worship service for Olivet was held in a remodeled house at 43rd and Beard Avenue North in Robbinsdale on Sunday, September 28, 1947. The Rev. John C. Kauffman, pastor of Hope Evangelical United Brethren Church in north Minneapolis, served as pastor of both Hope Church and to the new Olivet Church.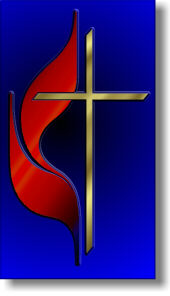 In May of 1949 Olivet received its first full time pastor, The Rev. Gerald V. Walder, who served the church, during his first stay, until June of 1957. During Rev. Walder's pastorate work went ahead to build a church---and on April 2, 1950 announcement was made concerning the permit for a new church to be built at 43rd and Chowen Avenue North in Robbinsdale. A few weeks later, on May 21st of that same year, members were received into the service of Olivet Church for the first time, on Charter Membership Day. Olivet was now embarked on its service to the Lord as a Church with its own membership.
The Sunday immediately following Charter Membership Sunday was another day of joy for those working for a growing Church in the Robbinsdale area. It was on that day, May 28th that ground was broken for a new church.
The following year saw the congregation hold its last service in the remodeled house on July 8, 1951. On July 15th, with about 30 people present, service was conducted in the new building.
The Rev. Donald L. Walkes came to Olivet as its pastor in June of 1957 to replace Rev. Walder who had been given another assignment. It was during Rev. Walkes' stay at Olivet that there was a merging of Hope Evangelical United Brethren Church of Minneapolis with Olivet to form a larger congregation to worship at the Olivet site.
The 1960's saw two major changes in the life of Olivet Church. In 1962 ground was again broken, on the Olivet property, for a new addition to contain a new sanctuary, pastor's study, secretary's office, nursery plus other facilities.
On April 28, 1963 the dedication of that new and current church edifice took place. In 1968 the name of Olivet Evangelical United Brethren Church became Olivet United Methodist Church - the result of the merging of the two parent church organizations, The Methodist Church and The Evangelical United Brethren Church.
In June of 1973 Olivet said good-bye to its pastor, Donald L. Walkes and welcomed back again Gerald V. Walder, who remained until 1987. In that year Howard Bredesen became Pastor, serving until 1991, and in that year Alden Keiski became Pastor, until 1997.
In 1997 the current Pastor, Dr. Randall Taber (Randy) assumed the pastorate of the Church.
Outreach programs associated with Olivet are PRISM, Leisure Age and also a day-care center is located in the building.
In May of 2000 the Church noted its 50th anniversary of formal organization.
It is hoped that Olivet will continue to be a growing congregation in the times to come.
3620 43rd Ave N
Robbinsdale, MN 55422-1535

Rev. Dr. Randall K Taber | olivetumc1@juno.com
(763) 537-8351 | Fax: (763) 536-8161

Sunday School: 9:00 AM (except summer) | Praise Hymns: 9:45 AM
Worship: 10:00 AM | (Youth Sunday School during worship except during summer)

---